Our teams across the four codes of women's football, men's football, camogie, and hurling compete in local, national, trans-Tasman, and international compeititions. Below is a summary of the competitions in which we regularly compete.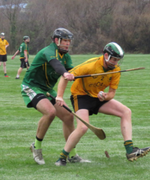 O'Carroll Cup
July/August/September
The O'Carroll Cup marks the beginning of a new season of Gaelic games. Played at the beginning of the season, the games are played over one day featuring at least one game across each code. The cup is named after club patron Ann O'Carroll, and her late husband Austin, who were instrumental in reviving Gaelic games in the region in the 1980s, and seeing our games flourish in the 1990s through to the early 2000s.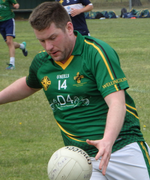 Australasian state games
October
The Australasian State Games is an annual interstate competition held over three or four days every October. Competitions include senior and intermediate men's football, minor football (under 18), women's football, hurling and camogie, involving up to 600 players. The first Australasian interstate football and hurling championship was played between New South Wales, Victoria and South Australia in 1971 in Melbourne. Today, the tournament is regularly contested by teams from Western Australia, South Australia, Victoria, New South Wales, Queensland, Canterbury, and Wellington.
Our first appearance at the tournament was at the 1988 games in Sydney, and we have appeared at several tournaments since. We have held the tournament on two occasions – 1997 at Fraser Park, Lower Hutt, and 2015 at Te Whiti Park, Lower Hutt. Notable appearances include our men's footballers' 2010 tournament in Auckland where they finished runners-up to Queensland after double extra-time in the senior men's football final. In 2015, our hurlers, who amalgamated with Canterbury, narrowly lost out to Victoria by a point in the semi-final. Our first win at the tournament came in October 2022 in Melbourne where our women's footballers defeated South Australia in the intermediate final.
Over the years we have had several players selected on tournament All-Star teams as well as players of the tournament. Since 2015, players selected on the All-Star teams usually go on to represent Australasia at the World Games.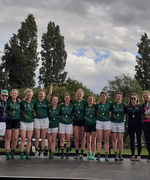 Feis sevens tournament
Labour weekend (October)
The New Zealand Irish Feis is a celebration of our combined culture, dancing and sport held over Labour weekend (late October). 2019 was the 69th year the Feis has been held in New Zealand. The first interregional games were played at the 1950 Feis and Gaelic games have been held at every Feis since.
Hosting of the event is shared amongst the Irish societies in New Zealand year to year, with each society taking its turn to host the event. Many of the Feis trophies have existed for decades and represent many years of Irish/NZ Feis history. Along with Irish dancing, vocal, instrumental and speech and drama competitions, the Feis is the first national Gaelic games competition of the season with men's and women's gaelic football, hurling and camogie seven-a-side games contested.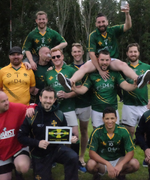 New Zealand junior championships
November/December
The New Zealand junior championships is a competition catered toward New Zealand's smaller clubs as well as larger clubs' beginner and social players. For Wellington/Hutt Valley, the competition has served as a great opportunity for players from our social games to represent the club in a national tournament. The competition was last held in Hamilton in 2018 where, fielding a team of seven different nationalities across a squad of 13, our men's footballers won the tournament. Although not played every year, the competition – when it takes places – is usually held in November/December.



Morning Star Cup
November/December
The Morning Star Cup is a three-game intra-club hurling series played over November and December. Our hurlers are split into two teams and the best team out of three games wins the series. First contested in 2020, the competition has been a welcome addition to the season as the hurlers' competitive edge is maintained between national tournaments.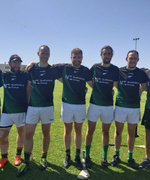 Melbourne Pearse's sevens
February
The Melbourne Pearse's sevens is a one-day tournament run by Melbourne club Padraig Pearses GAC each February. Clubs from across Australia and New Zealand descend on Melbourne for a festival of Gaelic football, hurling and camogie. In 2019, our hurlers joined up with Canterbury to compete as a New Zealand team. Despite performing well in the group stage, they missed out on the knockouts by scoring difference.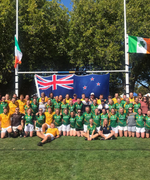 New Zealand Championships
March
Held every March, the New Zealand Championships are the highlight of the national Gaelic games calendar. Like the Feis, teams from across the country descend on the host city for an action-packed weekend of Gaelic games. While previous national competitions have been played on and off over the last few decades, the current competition was established in 2013 and played every year since.* Our teams have enjoyed great success in the competition in women's and men's football and hurling. In 2021, our men's footballers and hurlers claimed an historic championship double in Christchurch.

*The tournament did not take place in 2017 (due to flooding) or in 2020 and 2022 (due to COVID-19).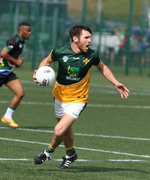 2015 saw the first World GAA Games competition take place in Abu Dhabi. The 2016 and 2019 games took place in Ireland with the finals played at Croke Park. The competition includes teams from New York, Middle East, Asia, Europe, Canada, South Africa and Argentina. Players selected on the All-Star teams at the annual Australasian state games usually go on to represent Australasia at the World Games.
We've had six players represent Australasia at the World Games: Eimear 'Nails' O'Donnell and Etaoin Friel (women's football, 2015); Emmet Whelan and Patrick Dempsey (hurling, 2016); Eileen Foyle (women's football, 2016); Patrick Dempsey (native team) and Shane McWeeney (non-native team) (men's football, 2019). In addition, although not competing at a World Games, Seán Wallace and John Lucey – All-Stars from the 1995 Australasian Games – represented Australasia's men's footballers in a tour of Ireland in 1996.